By ANNA FELICIA BAJO | GMA News Online
Ferdinand Marcos Jr. has paid his tax deficiencies and fines for 1982 to 1985, a certification from the Bureau of Internal Revenue and presented by his spokesman on Wednesday showed.
The document, signed by Arsenio Tomeldan of the Collection Section of BIR Region No.7B-East NCR of Revenue District Office No.42-San Juan, indicated that Marcos paid at the Land Bank of the Philippines the amount which covered the computation of deficiency income taxes and fines covering the taxable years for 1982, 1983, 1984, and 1985.
The total deficiency taxes and penalties paid in 2001 amounted to a total of P67,137.27, the exact amount stipulated in the 1997 Court of Appeals (CA) decision.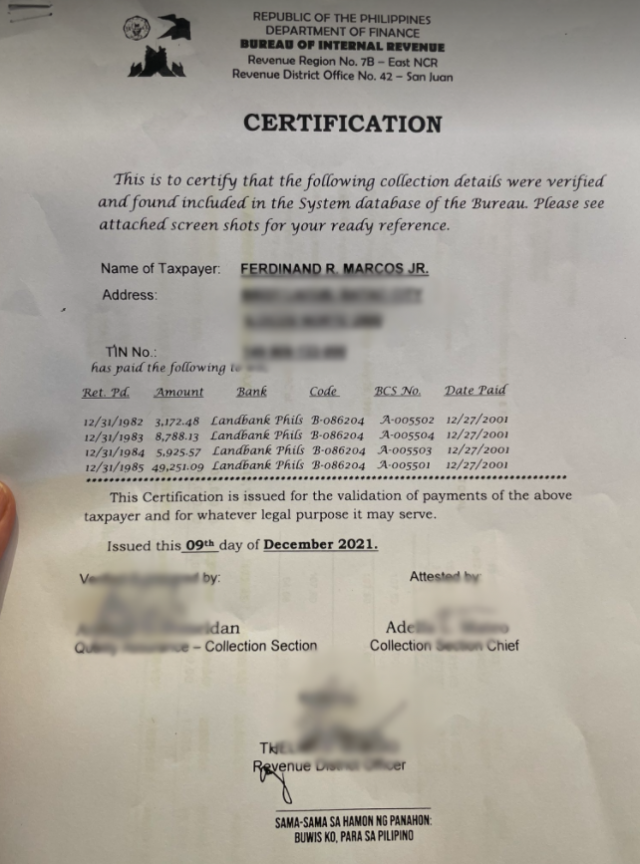 "I have here this certification, coming from (the) Bureau of Internal Revenue, showing that presidential aspirant Bongbong Marcos have paid all his deficiency taxes, including interests," Atty. Vic Rodriguez said at a news conference.
"In this certification, malinaw ho dito na binayaran 'yung due for 1982, 83, 84, and 85, so wala hong pagkakautang si Ferdinand 'Bongbong' Marcos na buwis or tax deficiency or penalty or interest. Bayad ho at binayaran nang matagal na panahon. They paid on December 27, 2001," he added.
[In this certification, it is clear that he paid what is due for the years 1982, 1983, 1984, and 1985. So Ferdinand "Bongbong" Marcos owes nothing when it comes to tax deficiency, penalty or interest. He paid these last December 27, 2001.]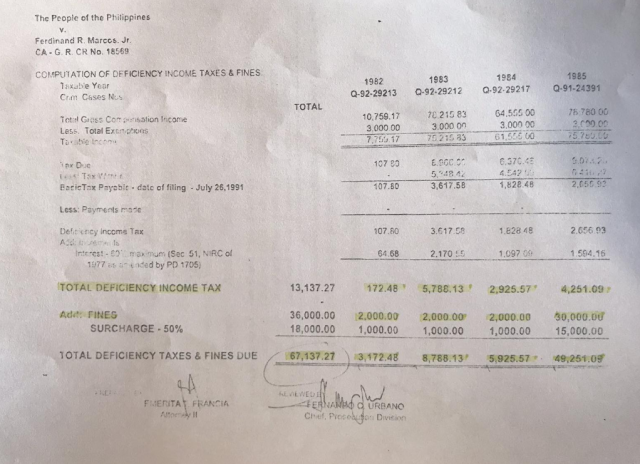 At least seven petitions have been filed before the Commission on Elections seeking Marcos' disqualification and/or the cancellation of his certificate of candidacy for president in Eleksyon 2022 over supposed Tax Code violations.
The petitioners have cited Section 252 of the Tax Code which provides that the maximum penalty prescribed for the offense of violating Tax Code for public officials and employees is dismissal from public service and perpetual disqualification from holding any public office.
Rodriguez said Marcos' camp already had been in possession of the BIR certification for some time now but could not make it public as the petitioners were also looking for evidence to undermine Marcos'candidacy.
"Doon sa ating lahat ng supporters ng BBM-Sara UniTeam, ito na po 'yung hinihintay nating lahat na pruweba, matagal na ho nasa amin ito subalit purposely, hindi namin puwedeng ipakita dahil nga naghahanap or fishing for evidence 'yung mga petitioners na walang layuning gawin kung hindi guluhin at i-diskaril 'yung maayos na kandidatura ni Ferdinand 'Bongbong' Marcos Jr.," he explained.
[To all supporters of the BBM-Sara UniTeam, this is the proof that we've been waiting for. It's in our possession for a long time but we could not just show it to the public as the petitioners are fishing for evidence to discredit Marcos' candidacy.]
Earlier reports said that the Quezon City Regional Trial Court Branch 105 had no record proving that Marcos had paid taxes and penalties in connection with his failure to file tax returns from 1982 to 1985.
The QC court had said it asked the former dictator's son to submit proof of the fine imposed but until now had no record that Marcos already paid the taxes and penalties due.
Asked for the reason why the QC court had no record, Rodriguez said he could only speak for Marcos.
"I can only speak for Bongbong Marcos, I am not a spokesperson of the RTC who rendered the decision or of the Office of the Clerk of Court of the RTC of Quezon City. Feel free to ask them," Rodriguez said.
The local court convicted Marcos in 1995 for failure to file his income tax returns as governor of Ilocos Norte for taxable years 1982 to 1985 and for the latter's failure to pay the corresponding deficiency taxes.
Rodriguez then urged the Commission on Elections to assert its independence as he pointed out that petitions, which supposedly do not have any substance, should no longer be entertained.
He also said the petitions against Marcos are all the same.
"As a lawyer, as an officer of the court, it is high time for the Commission on Elections na i-assert ang kanilang independence at i-assert ang kanilang constitutional mandate, pag nakikita na mga pawang basurang petisyon at kaso ang inihahain laban sa kanila, eh sa clerk of court ng commission, puwede ng huwag bigyan ng due course 'yan," Rodriguez said.
[Comelec should assert their independence and constitutional mandate. If they see that the petitions seem to be trash, they should not be given due course even at the clerk of court level.]
"I say this with all conviction dahil ilan na ba 'yung petisyon laban kay Bongbong Marcos? paulit-ulit lang ang alegasyon, nagpapalit lamang ay 'yung mga petitioners o nagdedemanda," he added.
[I say this with all conviction because how many are the petitions against Bongbong Marcos? They're all the same. The only difference is the petitioners.]
Rodriguez asked the petitioners to not use the poll body for their political agenda as the agency has a lot of things to do in preparation for next year's elections.
"Huwag nating gawin na take-off point ng mga political propaganda 'yung Comelec. Uulitin ko, huwag ho natin perwisyuhin ang Comelec, ang dami-dami hong mas seryosong trabaho ng Comelec na dapat nilang paghandaan patungkol sa nalalapit na May 9, 2022 elections, huwag na nating buhusan ng walang kasusta-sustansyang petisyon laban kay Ferdinand 'Bongbong' Marcos Jr.," Rodriguez said.
[Do not use Comelec as a take-off point of your political propaganda. The poll body has a lot of things to do to prepare for the coming elections. Let's not flood them with petitions which have no substance.] —NB, GMA News