By ANNA FELICIA BAJO | GMA News Online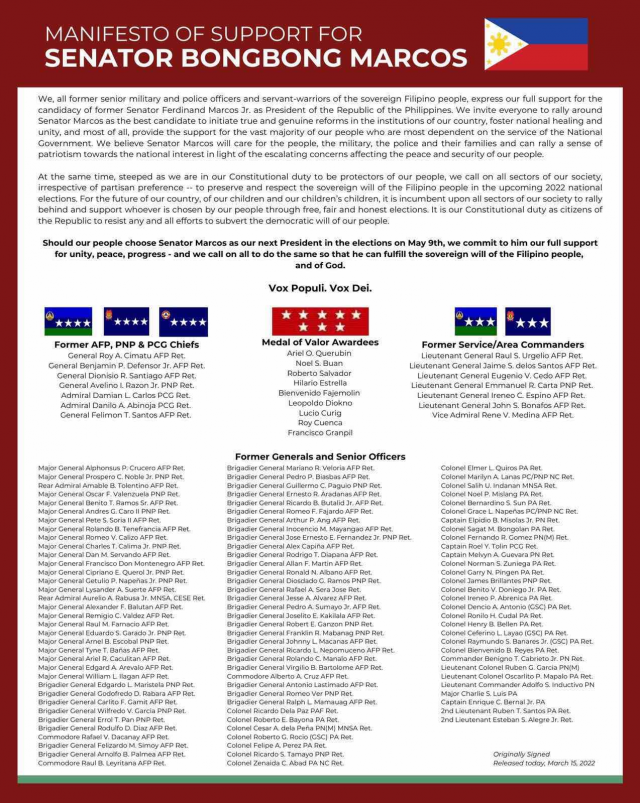 Several retired military, police and coast guard officials, and medal of valor awardees have expressed support for the presidential candidacy of former Senator Ferdinand Marcos Jr.
Former Armed Forces chief of staff retired General Felimon Santos and Medal of Valor awardee retired Colonel Ariel Querubin confirmed the retired senior officers' manifesto of support to GMA News Online.
Environment Secretary Roy Cimatu, also a former chief of staff, likewise sent a text message to confirm the manifesto.
"We, all former senior military and police officers and servant-warriors of the sovereign Filipino people, express our full support for the candidacy of former Senator Ferdinand Marcos Jr. as president of the Republic of the Philippines," the manifesto read.
"We invite everyone to rally around Senator Marcos as the best candidate to initiate true and genuine reforms in the institutions of our country, foster national healing and unity, and most of all, provide the support for the vast majority of our people who are most dependent on the service of the national government," it added.
Aside from Santos and Querubin, other prominent signatories include former AFP chiefs of staff Roy Cimatu, Benjamin Defensor Jr., and Dionisio Santiago, and former PNP chief Avelino Razon Jr. —NB, GMA News