By Jaehwa Bernardo and Rose Carmelle Lacuata | ABS-CBN News
MANILA (UPDATE) — Former senator Ferdinand "Bongbong" Marcos Jr. topped anew Pulse Asia's latest survey on preferred presidential candidates in the May 9 elections, the pollster said Sunday.
According to the survey conducted last Jan. 19 to 24, Marcos is the first choice among presidential candidates, with 60 percent of respondents saying they would vote for the son and namesake of the late dictator "if the May 2022 elections were held today."
Vice President Leni Robredo came in second with 16 percent.
Sen. Manny Pacquiao and Manila Mayor Isko Moreno Domagoso each had 8 percent of respondents' support, while Sen. Panfilo Lacson had 4 percent.
Labor leader Ka Leody de Guzman got 0.02 percent, while Ernie Abella got 0.05 percent, and Faisal Mangondato got 0.3 percent.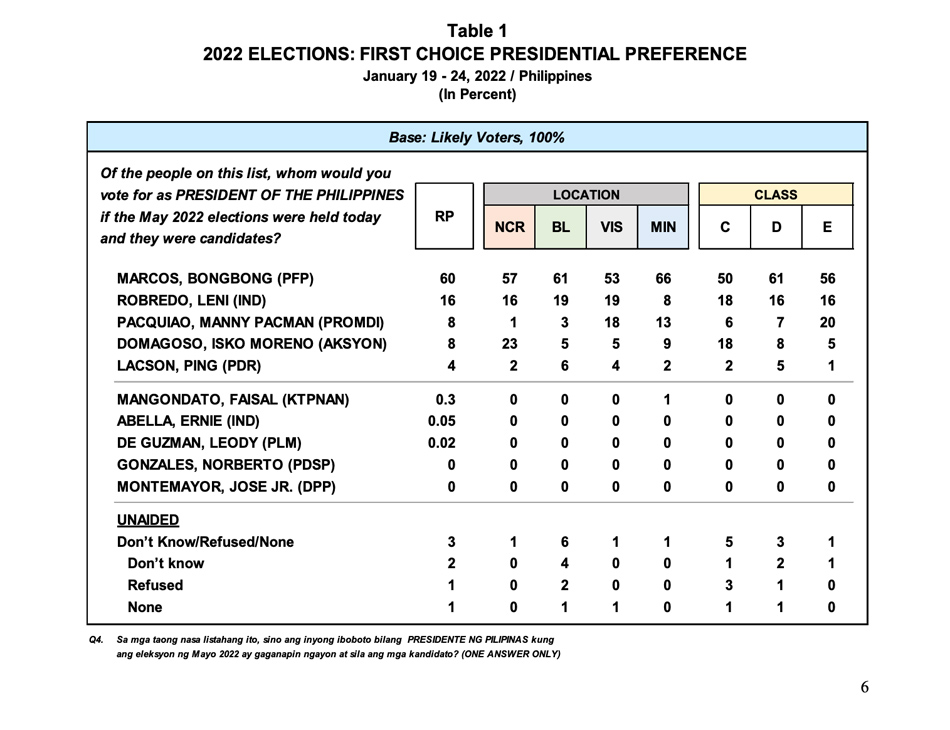 Meanwhile, 50 percent of the respondents said they will vote for Davao City Mayor Sara Duterte-Carpio for vice president.
Senator Vicente Sotto III came in second with 29 percent, followed by Senator Francis Pangilinan with 11 percent.
Dr. Willie Ong followed with 5 percent, Deputy House Speaker Lito Atienza with 1 percent, and former lawmaker Walden Bello with 0.02 percent.
Pulse Asia said it asked respondents in its latest survey to pick a second choice in case their initial bet ends up not pursuing his or her presidential bid.
The survey showed 24 percent of respondents will choose Domagoso should their original choice for president withdraw from the election. Lacson and Pacquiao followed with 14 percent each, Robredo with 13 percent, and Marcos with 10 percent.
In the vice presidential race, Sotto is the top second-choice candidate with 35 percent of respondents saying they will vote for him should their original candidate back out of the elections.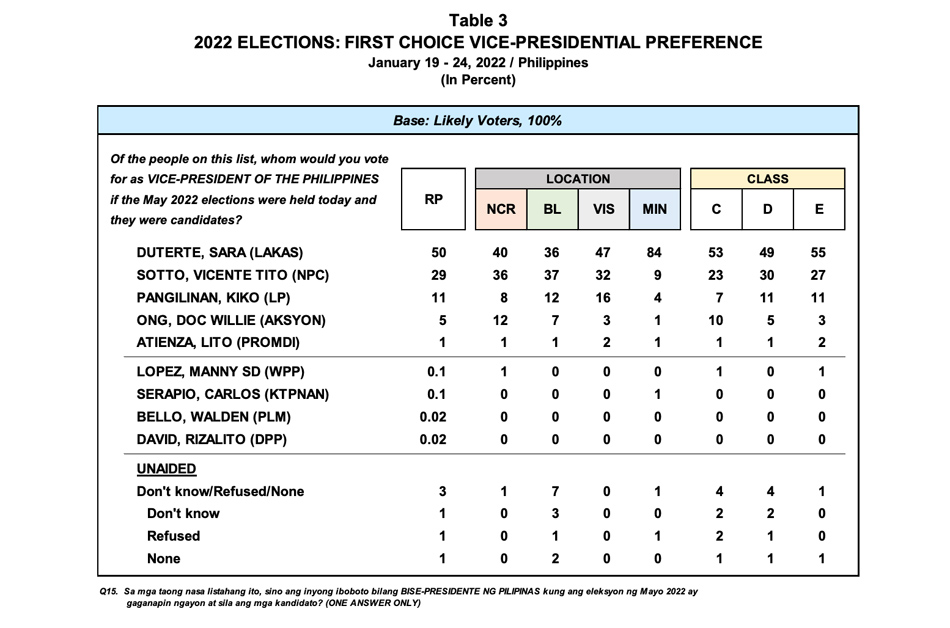 BREAKDOWN
The latest Pulse Asia survey showed that Marcos enjoys the support of the majority across all geographic locations, as well as across socioeconomic classes CDE.
In the Dec. 1-6 survey of Pulse Asia, Marcos got 53 percent of support, followed by Robredo at 20 percent.
For the vice presidency, Duterte-Carpio is the most preferred candidate in Visayas (47 percent), Mindanao (84 percent), and across socio-economic classes CDE.
Sotto topped in the Balance Luzon (37 percent) and in the National Capital Region (36 percent).
The nationwide survey had 2,400 respondents aged 18 and above, with a ± 2% error margin at the 95% confidence level, Pulse Asia said.
'NUMBERS DON'T LIE'
For the Marcos camp, the fact that Marcos Jr. is the leading candidate in several formal and informal surveys prove that majority of Filipinos believe in his "message for national unity".
"Numbers don't lie, and it is really humbling to know that our message for national unity is resonating among the overwhelming majority of the Filipino people," spokesperson Atty. Vic Rodriguez said in a statement.
"Indeed, we are gladdened to know that Filipinos are now ready to unite as a people, a signal that the Philippines is geared to claim her greatness, once again," he added.
Robredo's camp, on the other hand, believes that the Vice President's recent appearances in media interviews will turn the tide in the next surveys, and on election day.
"While the Pulse Asia survey was only released today, fieldwork for it was done from January 19-24, too early to capture the impact of the game-changing interviews with GMA, DZRH, and other media outfits," said Robredo spokesman Atty. Barry Gutierrez.
"VP Leni's stellar performance in those interviews, added to the massive rallies that have come out for her during this first week of the official campaign, give us confidence that she has the clear momentum," Gutierrez said.
"We have no doubt this will be reflected in the coming surveys, and of course, on election day," he added.
Bello meanwhile said his running mate, De Guzman's, performance in recent interviews and public appearances, will be reflected in the next surveys.
"The latest survey was taken before Leody's breakthrough to voters in the KBP forum and before my breakthrough to public consciousness in the internet debate on the mandatory military training initiative of Sara Duterte. We have just begun to fight," he said.
Analysts have said election surveys are mere "snapshots of the moment" and do not necessarily predict the outcome of the polls.